I'm Marc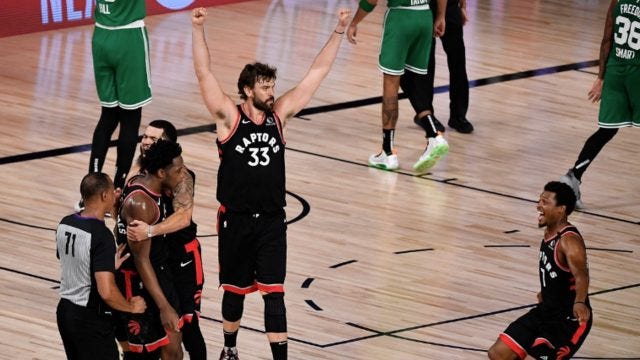 Aren't you? Standing there as the shot slips in, exhausted and astounded with no more timely response to the whole wide world come rushing toward you at once than raising your arms up, so slow, in the air? As your teammates come flying, veer off in a hollering swarm, one pitched-up, celebratory mess that spills just to your right, piles onto OG Anunoby and pummels him into the corner he'd just completely inverted one history from to make a new, incredulous other with? And you stand there, still, arms up, watching it happen, punctuating it, the one still thing in a moment alive and screaming, roiling by?
Yes, you are.
Sometimes you've been Fred VanVleet, you got there first, split right down the middle of joy in its waking moment and thudded your chest right up against its first blinking light.
You've been Kyle Lowry, come bounding across an entire court, stopping fast for a split second to roll back on your heels and jazz-hand your arms out before vaulting around Anunoby's shoulders, a mantle of love, your whole kinetic and joyful weight transferring to this one, your beloved, who you feel a pride for so deep it hones your body like a dowsing rod.
Or you've been Pascal Siakam, at first a mirror to Gasol, but ditching arms up and your stoic sheath for the magnetic pull of the bodies tangling in real-time in front of you, for screaming, for the burning pull in your throat to be a cord in that knot.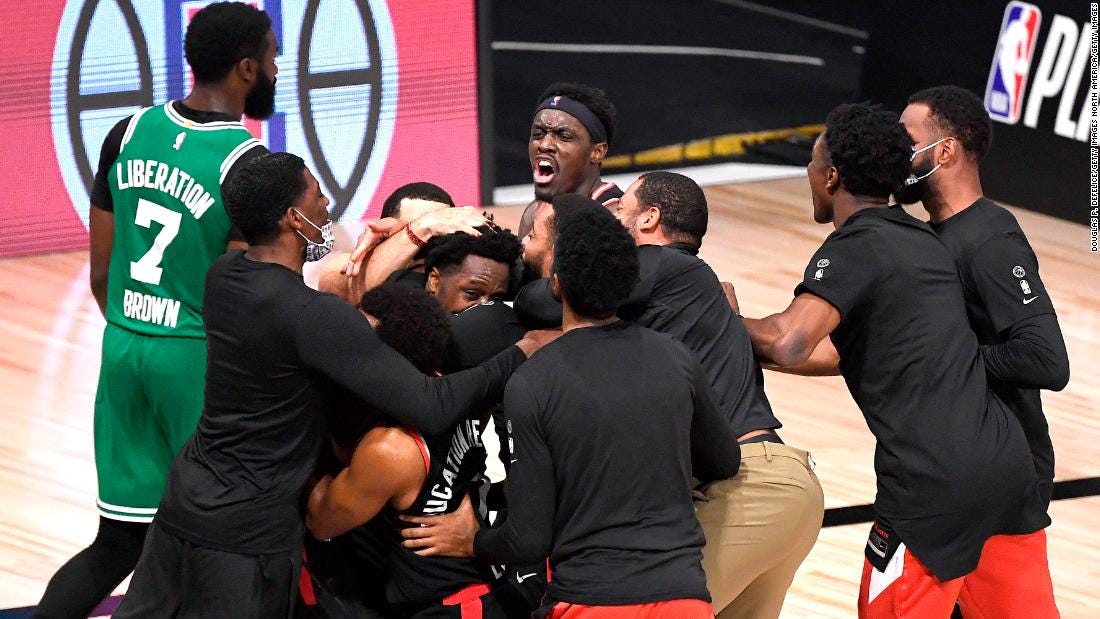 Maybe Norman Powell, slipping into the swell between waves, curling a comfortable bicep around Anunoby's face, framing him as OG buries his face, his nose — which maybe it was you who bonked it, whoops — as his breath stills by force from your pulse and adrenalin, your blood really.
You could also have been Jaylen Brown walking away, feeling the keening coil of hope just to your right, growing and gaining momentum, actually reverse what seemed predetermined, set, from where your fingers just couldn't skim, the belly of the ball blinking past overhead a total eclipse of your surety.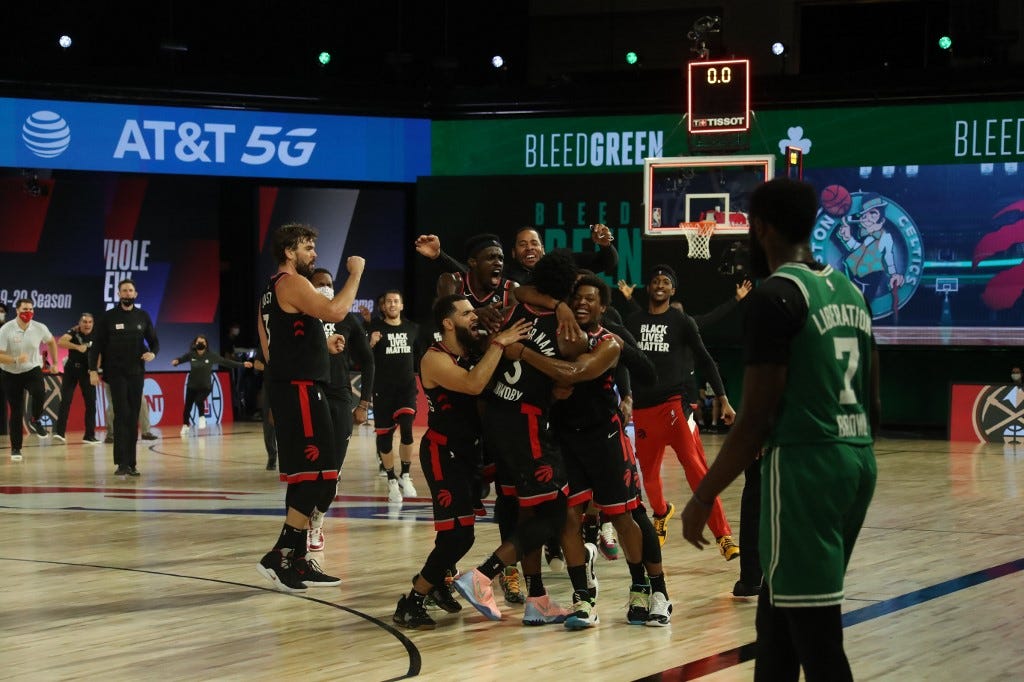 You've been anyone else who got there, felt their feet leave the floor, this earth, for a few drawn seconds. The hum of close breath and voices and buzzing phantom arena sounds still being piped in rising in their ears. The feel of fingers squirming across their bodies, sneaking through the soft gaps of armpits and the permanently vulnerable undersides of forearms, crooks of necks where you first go to tickle somebody, all these hands snaking and reaching for Anunoby, the hot core of triumph at the middle. Feeling yourself move, be moved, by a jumble of legs sprung from an entirely mythic beast of affection, chainlink of arm upon shoulder upon arm upon shoulder, slowly spinning into the dark at the end of the court, might as well be end of the known world.
But just then, last night, right along with him, you were Marc.
Because you weren't just standing struck still, fixed as a mote hanging in the bright gust of light of this moment, you were protecting it. Made stoic first by disbelief and then the surging, dizzying, capsizing swell of belief clawing over that doubt, over your own shame in quitting on holding out. Recognizing the tender thing happening in front, then beside, then behind you, and standing guard over it, daring the doubt to creep back in, daring the seconds on the shot clock to prove too few, daring for the world to insist this moment will at some point need to be over, that in basketball, in life, the next breath always counts most. Your arms shaking a little with relief, the blood draining down from them, but keeping them shoved up high, a tender, half tragic custodian of hope.
You were Marc forever — incensed, stubborn, rich with belief— and then you blinked, but then you were Marc again. Sentinel, aegis, a little bit catching your breath and catching up, body pummelled, but there to hold the moment in both hands, refusing to acknowledge how slippery it was only that you'd caught it, shine off its wild eyes flashing under arena lights, thump of its heart a tangible proof there was still life in the days ahead.
You watched the pileup, felt the rapid thud thud thud of one body after another hammering together in all the places they didn't touch you, the air of everyone who sprinted by a ghostly little Wish You Were Here, stepped outside of it all to get a good view of some small, intensely insular history in its panoramic scope just so you could keep it, selfishly shove it down deep inside yourself.
Your arms went up and never came down.