Discover more from BASKETBALL FEELINGS
Reconciling life with basketball, or else the other way around.
Over 2,000 subscribers
With the 21st pick in the Basketball Feelings Feelings Draft, Dunktown selects... LONELINESS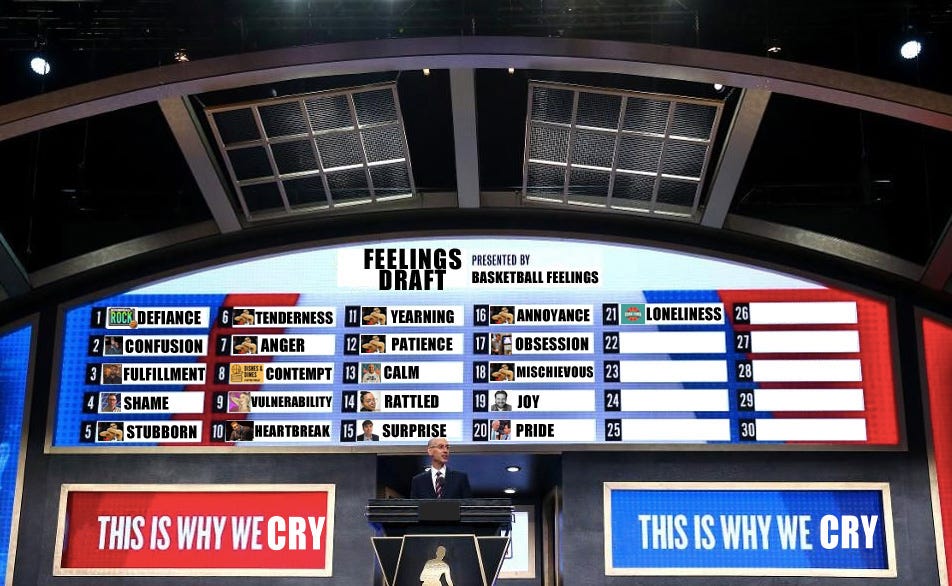 It's impossible not to feel good listening to Dunktown. Every episode kicks off with a custom jingle reminiscent of a classic, real wholesome morning show and hosts Anastasia Vigo and Agata Monica (and their producer Gabe) more often than not greet listeners with, "Hi cuties!" A thing they also do is cut to the heart of basketball and all its occasionally pretentious trappings. They're smart, compassionate, funny and considerate, but they call shit out. Those are the qualities you want in a best friend and a basketball podcast. They started the podcast because they were new fans who wanted to learn as they went, but in the process reveal something I have always felt to be true and partially why I started Basketball Feelings: that many experts are weird possessive gatekeepers who seem to crave a joyless experience, and basketball is changing for the better with people like Agata and Anastasia, who see it through clear, sharp and necessarily wide eyes, around.
Anastasia Vigo:
I think loneliness is particularly relatable right now.
Agata Monica:
To us, to the players, to the world—literally everybody.
Anastasia:
Being in the bubble has to be hard because the players are far from their families and their regular support systems. And at times literally quarantined alone.
Agata:
Yeah, it's tough mentally on them. Just like it is for everybody else right now. Well everybody who's not going to a strip club for wings.
Anastasia:
Damn. I want wings right now—veggie wings anyway. But I'm trying to be good and stay home. And we're two single people who live alone so we really get loneliness right now, let me tell you. How are you holding up in this time?
Agata:
I'm doing ok… I guess? I don't really know how to respond to that anymore. But I'm definitely feeling the loneliness, even as a person who usually loves to be alone. What about you?
Anastasia:
Yeah, same. I mean I can't complain. I have my health and a job. And I typically enjoy my alone time, but this is too much. All the zoom calls in the world don't make up for being near someone or being touched, ya know?
Agata:
For sure. 
Anastasia:
So now that we're totally bummed out and in the headspace of loneliness, what does that term make you think of in relation to basketball?
Agata:
I'm definitely thinking of all the players in Florida right now that are separated from their kids, partners, and friends. To be expected to perform at a high level right now while being in a different environment seems unfair and overwhelming. And that's taking into consideration both the pandemic and the Black Lives Matter movement that so many players are actively supporting. They can't be expected to do it all AND entertain us.
Anastasia:
Yeah, they probably have a lot of emotions swirling around that they are expected to bottle up in order to focus on playing a game with a big orange ball. That being said, I'm happy to watch them play, and speak out about racial injustice, and make youtube videos, like Matisse Thybulle is doing. I'm watching all of it.
But also I feel for them. They must be feeling the same overwhelming feelings we all are and more! But this also makes me think of how lonely professional basketball must always be. I mean they're always far from their families, traveling all the time. They're always being traded away from teammates they love. And for players like Josh Hart, they're always left hanging when no one high fives them. 
Agata:
Definitely, they're always on the road, so this is closer to normal life in some ways. But I'm also always fascinated by the players that never really fit in with their teams and are constantly moving around—Jimmy Butler comes to mind.
His mom kicked him out of the house at 13, and that's really affected him. I love watching him play, but he's known as a difficult teammate "in the locker room". Does that mean he's in there slapping guys with towels? I love watching guys who are driven by a passion for basketball beyond a normal level, but then they have to deal with being followed everywhere by loneliness that I'm sure comes with being moved around when the fit isn't perfect.
Anastasia:
Damn, Agata. That's so sad. I just imagine Jimmy trying to snap a towel at a teammate and all his teammates running away from him leaving him all alone in the shower, crying softly. Is this what's going on with you, Jimmy?!
Agata:
God, I hope not. In all seriousness, I really respect the players who address their mental health publicly and normalize it for the other players.
Anastasia:
Totally! DeMar DeRozan comes to mind. He must have felt so lonely when he got traded from the Raptors to the Spurs, leaving his best friend Kyle Lowry in Toronto.
He's spoken out about this feeling, essentially being rejected by a team that you were all in for. He bounced back and said that Pop helped him by telling him how much he was wanted in San Antonio, but damn that must have hurt. You've moved a bit in your life, right? That must be hard.
Agata:
It's always hard to leave behind family and friends, but that's just how I am. Always thinking about the next move. But I can't imagine how tough it is to find out you have to move somewhere tomorrow with no notice. Like what if I called you tomorrow and said pack up and go to Memphis indefinitely.
Anastasia:
Wait… are you trading me to a podcast in Memphis? No! Don't do this to me, Agata!
Agata:
All of our time will come eventually. Sorry you had to find out this way.
Anastasia:
Well, dang. I guess this must be what the players feel like. For people who are extroverted and make friends easily, I bet it's not so bad. You make new friends. You still have a home base somewhere. But I really feel for the little cutie introverts who have a harder time making friends. No wonder Kawhi wanted to be in Los Angeles. He probably just wanted to be around people he felt comfortable with. 
Agata:
Loneliness has always been part of the game, but it's amplified now. Say hi to Ja for me.
Anastasia:
*sniffles while packing* Ok, well I guess this is it. Do you maybe wanna zoom or something once I get to Memphis? 
Agata:
I'm busy.